Noni Manning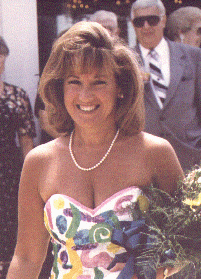 Noreen Cavaliere, 1995

On December 19, 1995, Noni gave birth to Jillian Noreen Cavaliere at Riverview Hospital, Red Bank, NJ. Little Jillian (who wasn't due until April 10, 1996) was over 16 weeks premature and weighed in at a petite 1 pound, 2 ounces. She was immediately rushed to Jersey Shore Medical Center where she received the best possible care.
Jillian is now home with mom and dad and her progress has been exceptional.
Noni and her husband Joe recently bought a townhouse at 29 Oak Mews Ct. in Ocean, NJ 07712. Her pride and joy (besides Jillian) is her Golden Retriever, Louie (also known by his full name, Luther, after Luther Vandross).
Noni is a kindergarten teacher at Deal School on Roseld Ave. in Deal, NJ. where she is also the coach of the cheerleading squad.